Mazda RX8 indoor exhaust sound
Share on Facebook
Flyby sound of the K&N intake
Revving with the K&N intake
RX8 equipped with K&N typhoon doing donuts
Share on Facebook
K&N intake sound test on mazda rx8. only intake, otherwise stock.
City driving with the mazda RX8 K&N intake
Rx8 with RE-exaust system & RE-manifold & K&N Typhoon air intake
Share on Facebook
K&N Typhoon on my 06 RX8

RX-8 K&N intake, AP pulleys, Exoticspeed exhaust PT1

K&N air intake version 2

Share on Facebook
Mazda RX8 with k&n typhoon induction kit & catback 2.5 inch mid pipe into 3.5 inch tail piece.
Share on Facebook
For the 2003 to 2008 RX-8 the 69-6030-1TFK, short ram intake system, is your ticket to real horsepower. The 69-6030-1TFK uses an inverted high-flow K&N air filter that allows your engine to breathe deep while effectively filtering the air to protect your engine. The complete intake system replaces the factory airflow assembly including the filter, air box and air path which results in an increase in horsepower that K&N guarantees. K&N air intakes come with a set of written instructions making installation very easy, usually in 90 minutes or less
K&N 69-Series Typhoon Short Ram Intake Mazda RX8 1.3L 03-06 Built for performance and show, the Typhoon Air Intake System is a free-flowing mandrel-bent aluminum tube induction system designed to fit many sport compact performance vehicles. Each kit is proven on a dynamometer to increase horsepower and torque.This Typhoon intake comes as a short ram intake. Available in Flat Black finish, this kit is sure to please in every way. Comes with an oversized High-Flow conical air filter designed to provide increased surface area and dust capacity.
This extra surface area provides even more airflow at lower restriction than a standard K&N O/E replacement filter that is limited to the size of the factory air box. The oversize air filter also captures more dirt increasing the service life before a cleaning is required (up to 100,000 miles).Features:-Designed for increased performance for your sport compacts, utilizing the finest quality components -Guaranteed to Provide more horsepower and increased acceleration -Available in high-quality finishes - Includes K&N High-Flow, Washable/Reusable Air Filter -Easy to Install -Million Mile Limited Warranty Product Specifications: -Product Style: 69 Series Typhoon Kits -Estimated Horsepower Gain: 10 HP @ 8700 RPM -Color: Flat Black -
SPECIAL PRICE : 307.99$

Click here to buy RX8 K&N 69-Series Typhoon intake

Replacement Filter: RU-5123 -
CARB Exempt: Yes -System Type:
Short-ram intake system -CARB EO
Number: D-269-32 -
Weight: 7.8 lb (3.5 kg)
---
K&N intake in action on mazda RX8
Mazda RX-8 K&N Typhoon II sound test

Mazda RX-8 flyby with K&N intake only

K&N intake on mazda 04 RX-8 6 speed

RX-8 K&N intake - starting

Share on Facebook
Injen has finally released the long awaited SP6030 SP series air intake system for the 2004-2008 Mazda RX8 1.3 Rotary (Part# SP6080) After months of extensive R&D we are confident to say that the Injen Air Intake System for the 2004-2008 Mazda RX8 1.3 Rotary is by and far the best system available for the Mazda RX-8, offering the largest power gains and also a truly unique setup that looks simply amazing under the hood. The Injen Air Intake System for the 2004-2008 Mazda RX8 1.3 Rotary also features Patented Air Fusion technology, which stabilizes both short and long air fuel ratios. This is how Injen was able to produce over 21hp at the wheels on the Mazda RX8, better than all of the competition!
You purchased one of the coolest combinations of sport and luxury on the road, so why would you settle for anything less than the best modifications? The 2004-2008 Mazda RX8 1.3 Rotary Injen Air Intake System by Injen will definately satisfy your needs, with gains of 22hp and 13tq!
What Makes Injen Intakes better than their competition?Not only are all Injen Technology Intakes made in the USA, Injen cool air intake systems feature MR Technology, developed by Injen to maintain safe air/fuel ratio and highly efficient tuning.
Injen also does extensive dyno tuning and r&d before releasing an intake, unlike many other companies who take an "if it fits, use it" attitude to aftermarket intakes.
The air intake kit can be found at newlevelmotorsports.com
Share on Facebook
This Red , Black powder coated or Polished CNC built 6061 billet aluminum and polished 304 stainless steel kit replaces the stock restrictive plastic RX-8 intake box. Our and is a true Ram-Air Cold Air Intake, receiving pressurized air into a fully sealed air box from outside of the super heated engine compartment. (Most intake systems are just a cone filter and pipe which grab hot air from around the radiator and the engine , which is why they don't have the same good Horsepower increase that our kit does.)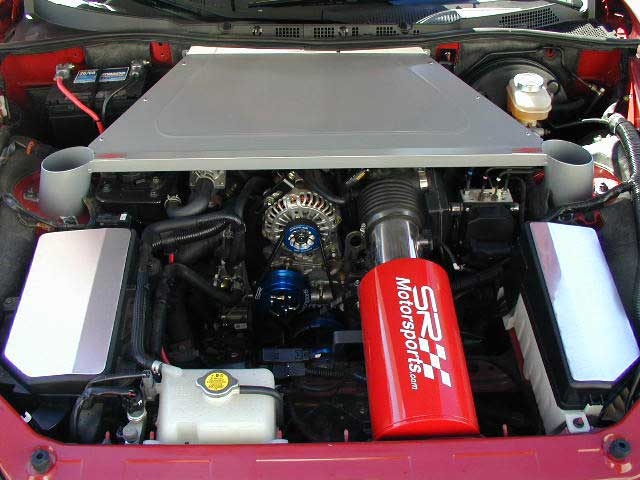 SR motorsports system is quiet too! No loud funky intake noise. All Metal Construction. No Cheap Looking Plastic ! A very nice looking and welcome horsepower addition to your RX-8. Comes complete with a reusable performance K&N type cotton air filter and all needed hardware.
100% simple bolt-on with hand tools. Installs in 30 minutes. SR motorsports kit does not require that the front end or bumper be removed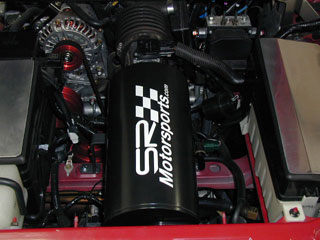 Price : 399$
Share on Facebook